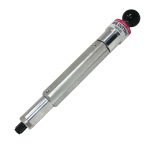 Kiss-Cutting Knife Tool
Tools are not available for purchase online.
See below for more detail information, sample photos and videos.
Description
Cut Sample Photos
Videos
Description
The Kiss-Cutting Knife is used for vinyl cutting applications where depth control is crucial. This tool is capable of cutting through multiple layers of vinyl and laminate up to 1 mm in thickness. This tool uses a floating glide shoe to precisely limit the depth of cut. This allows the tool to always cut to the exact same depth into the top layer but not through the liner material. The depth of cut is control by an ultra fine pitch adjustment screw. This allows the operator to dial in the exact depth of cut for the job at hand.