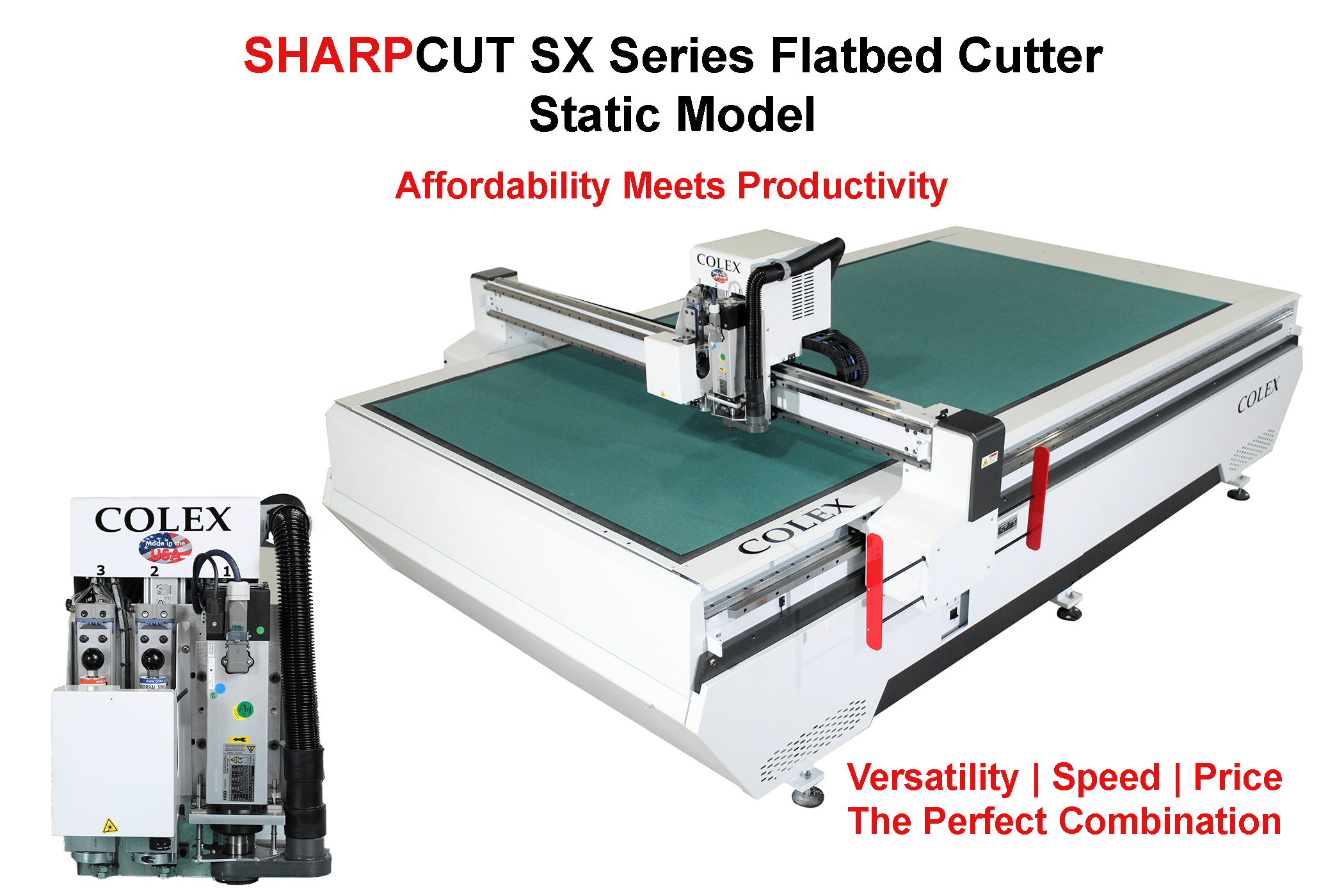 The Colex Sharpcut Flatbed Cutter is an easy-to-use cutting solution with an intuitive software platform at its core. Though competitively positioned, it is not to be underestimated for its versatility, throughput, and its ability to help you unlock the full potential of your flatbed or roll-to-roll printer. The Colex Sharpcut Finishing System features an automated and easy-to-use workflow solution for nesting and optimizing media.
Now you can:
Reduce costs and turnaround time on short-run applications
Turn outsourced jobs into in-house revenue opportunities
Decrease labor costs
Reduce waste and increase profits
The unique design of the Colex Sharpcut's triple interchangeable tool head allows your operator to transition from routing, knife-cutting, and kiss-cutting rapidly. By default, the Colex Sharpcut includes a fixed knife, an oscillating knife, and a router, allowing you to maximize the full capability of the table for a multitude of applications. Optional add-on tools are available for customization to suit your specific needs and workflow.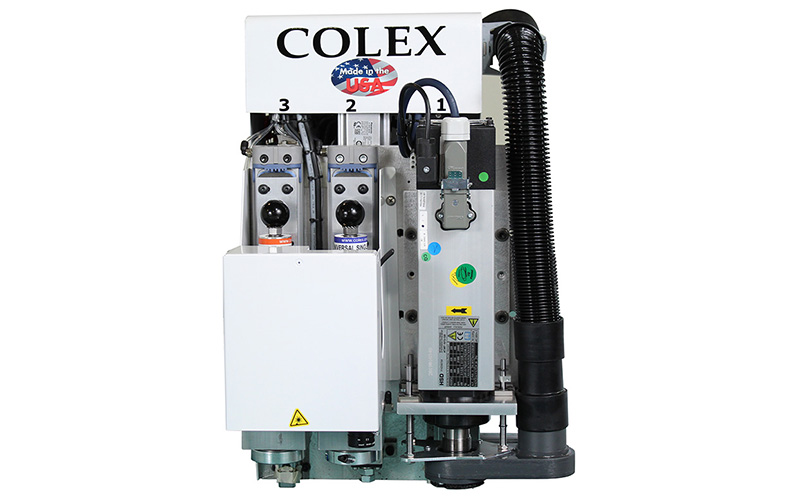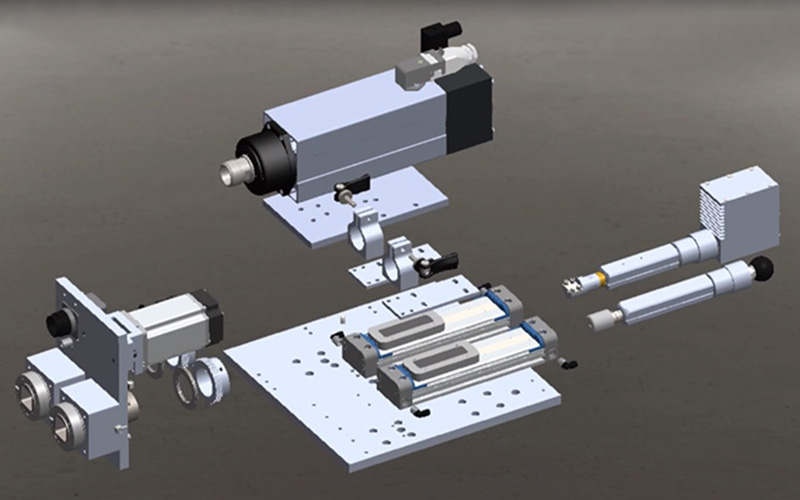 The Colex Sharpcut is a fully integrated hardware and software solution that turns your digital cutting table into a true short-run production system. This powerful solution provides unmatched productivity by intelligently finishing your graphics with the highest accuracy and efficiency. It includes a camera system powered by Colex Cut Center that individually adjusts your cut files to accurately match your printed graphics and read any diameter registration mark, crop mark or square resulting in highly efficient production.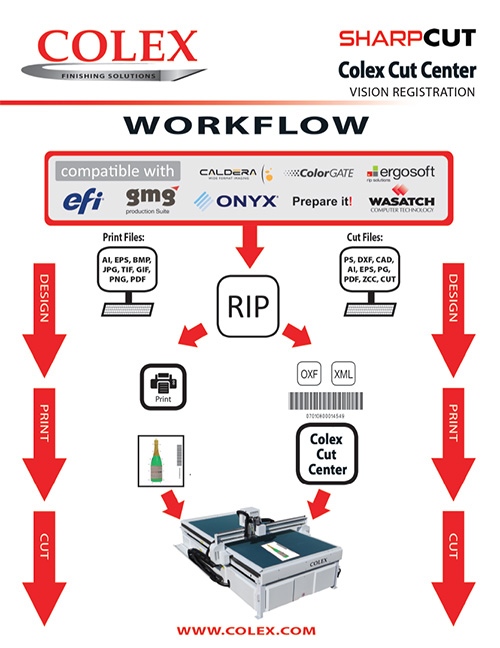 Vision Registration Video
The work surface is divided into six zones for the 67″ x 126″ and 126″ x 64″ models, four zones for the 67″ x 67″ model, and sixteen zones for the 126″ x 126″ model. Each zone has its own vacuum pump controlled by individual electrical "on/off" buttons on the front panel. The power of the pumps is configured for most substrates used in large format printing.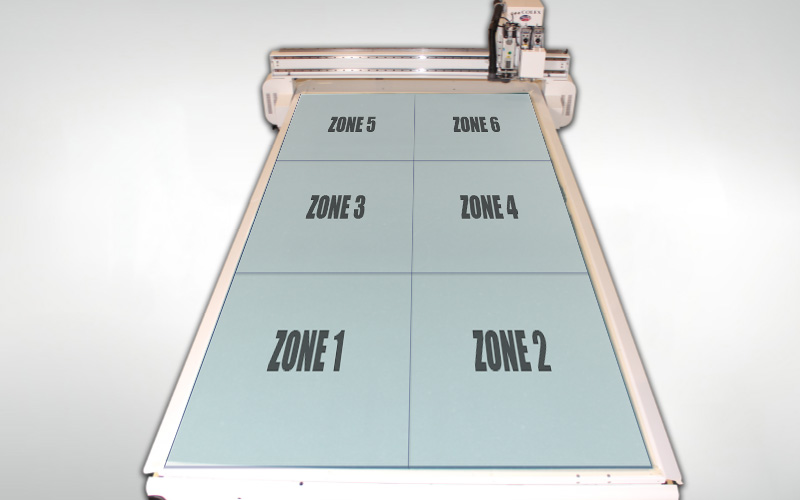 Our cutting table is designed for cutting sheet and rigid materials while delivering clean, smooth edge quality. The gantry is made out of Aerospace aluminum alloy, strong enough to accommodate the optional 3HP Router. The cutting surface of the machine can withstand 1,000+ pounds of pressure.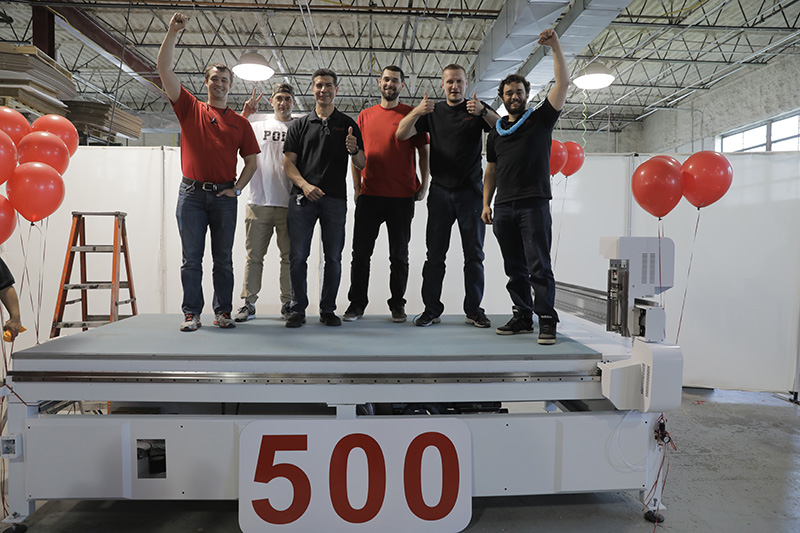 As a business owner, I've had a lot of machines over the years, but this is my Favorite! It has allowed us to offer so many more products to our customers. It is a workhorse and I would recommend this machine and company to anyone. Great customer service and support! – Marsha
This is a great piece of equipment. For its capabilities you can not beat the price! Installation went very smooth the training was excellent and we have been running the machine every day for the last 3 months! If you ever have an issue a phone call and a quick set-up in Team Viewer and problems solved! Very happy with our decision and purchase! – Chris
By far the best purchase I have made in 30 years! – Jeff
We have had our Colex for almost 4 years and love it. At one point we ran it 24 hours a day for 5 days without any issues. – William
I already had 2 other flatbed cutters and decided to try the Colex version as it appeared comparable at a substantially better price. While I still have the other two cutters, I now have 5 of the Colex cutters. They do a great job and their customer service is superb. Their service department is extremely accommodating and they understand that in a deadline business you can't afford to have equipment down. Great team to work with. – Alan
Colex makes a wonderful product with a 5 star customer service! They are always very friendly and extremely helpful! -Branden/Creative Color Studio