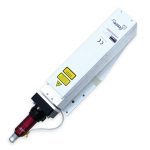 C02 Laser
Tools are not available for purchase online.
See below for more detail information, sample photos and videos.
Description
Cut Sample Photos
Videos
Description
The Colex Sharpcut can be equipped with a 40 Watt CO2 cutting laser. This laser is ideal for cutting textiles that require a sealed edge. The cutting speed and power output of the laser can be regulated to achieve nice clean cuts without over-burning the edge. This cutting process is ideal to keep the edges of synthetic textiles from fraying.